Bulgarian Pop Music
Bulgarian Folk Music
Bulgarian Rap Music
Bulgarian Techno Music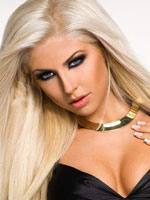 Bulgaria is famoust all over the world with its culture, music and traditions. The thing that kept alive Bulgaria through the ceturies is exactly the culture. The music of Bulgaria is some combination from the all Balkan styles and the result is the most popular gender in Bulgaria - chalga. Chalga is word, which comes from Turkish origin. It means "musician instrument" and this is not so bad, as most of the information in the medias about chalga music in Bulgaria. In fact this style found itself and its fans in the beginning of the newest history of the country, the developing period after falling of the comunism and comming of democracy in Bulgaria.
Most known pop-folk producers are Ara Music
and Payner Music, which companies are directed in producing mostly Folk and Pop-folk music. The famoust singers of the Bulgarian scene are Preslava, Azis, Maria, Esil Duran, Gloria, Alisia and many many more. They are well known as the stars of the greatest music gender in Bulgaria. The style of outlooking of pop-folk singers is almost the same for all singers. They are hot, scandalous and nice. They are paying more attention to their vision, than to their style on the scene.
Bulgaria is the country of Music and culture. This is the main reason to be developed so well this kind of art. Music is everything and chalga i the best known style of Bulgarian scene.